2023 Teen Conference
Wednesday, May 10 -
Thursday, May 11, 2023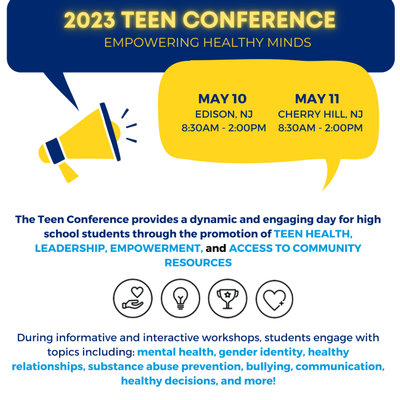 We are so excited to be back live and in-person this year for PPNCSNJ's Annual Teen Conference! We encourage you to register early for the 2023 Conference to be held this May as space fills up quickly. In order to accommodate our community partners across the state, we are excited that in 2023, the Teen Conference will be held at two locations:
Wednesday, May 10, 2023 in Edison, NJ
Thursday, May 11, 2023 in Cherry Hill, NJ
Please take advantage of our Early Bird Registration through January 31st, which entitles your group to bring 3 additional students at no cost (total of 15 students for $150). Students can also participate in the Youth Engagement Project, a competitive program that integrates students into conference planning and implementation by presenting a workshop, participating in a student leadership panel, receiving a leadership award, developing a video or TikTok on a health-related issue, and/or acting as a teen conference ambassador!
We have an easy online registration process that will make it easy for you to register, pay and get all the information you need for your students to participate in our Teen Conference.
To register groups of high school students for the Teen Conference, go to https://ppncsnjed.wufoo.com/forms/z7jnx9g1iwnv44/.
If you have any questions please feel free to reach out to Izzy at 973-879-4230 or [email protected] !
Last Updated: 02/01/23