Alzheimer Caregiver Support Group
Saturday, July 1 -
Sunday, December 31, 2023
Roseland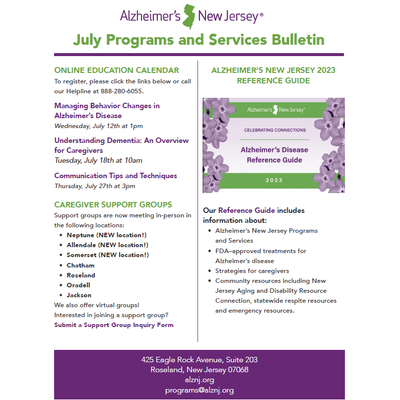 Our Reference Guide includes information about:
• Alzheimer's New Jersey Programs and Services
• FDA–approved treatments for Alzheimer's disease
• Strategies for caregivers
• Community resources including New Jersey Aging and Disability Resource Connection, statewide respite resources and emergency resources.
CAREGIVER SUPPORT GROUPS
Support groups are now meeting in-person in the following locations:
• Neptune (NEW location!)
• Allendale (NEW location!)
• Somerset (NEW location!)
• Chatham
• Roseland
• Oradell
• Jackson
We also offer virtual groups!

Interested in joining a support group?
Submit a Support Group Inquiry Form
Last Updated: 07/13/23