Disney Themed Workshops for Children
Sunday, June 11, 2023
Meets Weekly
East Brunswick,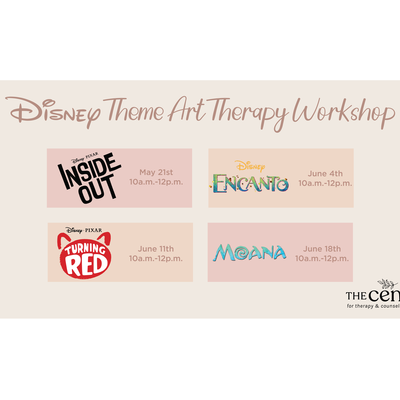 4 Art Therapy Workshops
AGES 8 - 10

Social & emotional skill-building, emotional processing, psychoeducation and fun!

Each workshop focuses on a different Disney movie with a theme connected to emotional and social wellness. Children will have the opportunity to be creative while processing their emotions and life experiences, while receiving support from their peers.

Workshops will be held on the following Sundays:

May 21, 2023
June 4, 2023
June 11, 2023
June 18, 2023

Workshops are held on Sundays from 10:00am - 12:00pm
East Brunswick, New Jersey
$50 per workshop
All Arts & Crafts included!

About The Facilitator:
Lisa Fennelly is a Licensed Marriage & Family Therapist at the Center for Therapy & Counseling Services. She has over 9 years of experience working with children in academic and therapeutic settings. Lisa has extensive experience in play and art therapy while working with children. She values the importance of seeing the perspective through a child's lens to gain a better understanding of their emotions and thoughts. She believes that if we create a space to allow children to express themselves creatively, children can increase social and emotional skills and awareness and develop creative solutions for adapting to life changes.
Last Updated: 05/12/23