Shout Down Drugs Music Competition
Wednesday, December 13, 2023
Meets Weekly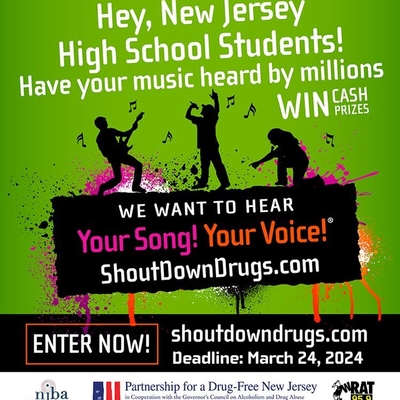 Formerly known as New Jersey Shout Down Drugs since 2005, Your Song! Your Voice! Shout Down Drugs New Jersey has been rebranded with a new name that fully encompasses what the competition is all about – challenging teens to create peer-to-peer original music, songs and lyrics in their own original style, whether it be hip-hop, rock, folk or any other genre. Each year the contestants' songs are featured on ShoutDownDrugs.com. The online voting periods allow the public to listen to and vote for their favorite songs. To date, more than one million votes have been cast since the online voting feature began in 2010. The contest finalists participate in the annual virtual prevention concert, during which the first, second and third place winners are chosen by a panel of judges to receive contracts worth $5,000, 3,000 and $2,000 respectively to perform their award-winning songs at events throughout the year.
Enter Your Song! Your Voice!
Submit your completed entry form and release by clicking here.
Your song, instrumental, performance video, and typed lyrics must be uploaded. Anyone who has difficulty meeting this requirement should contact the program coordinator for assistance, [email protected], or 973-275-7985.
FOR STUDENTS ENROLLED IN A NEW JERSEY HIGH SCHOOL EQUIVALENCY PROGRAM:
Please contact the program coordinator for eligibility requirements -
[email protected] or 973-275-7985
Last Updated: 10/18/23