Youth Council Membership Opportunity - DCF: CALLING ALL YOUTH!
(609) 455-7022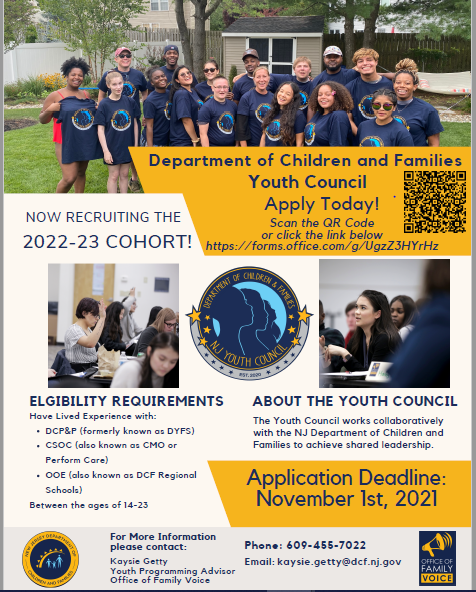 Department of Children and Families Youth Council: NOW RECRUITING THE 2022-23 COHORT! ELGIBILITY REQUIREMENTS: Have Lived Experience with:
DCP&P (formerly known as DYFS)
CSOC (also known as CMO or Perform Care)
OOE (also known as DCF Regional Schools)
Between the ages of 14-23
ABOUT THE YOUTH COUNCIL: The Youth Council works collaboratively with the NJ Department of Children and Families to achieve shared leadership.
Apply Today! http://forms.office.com/g/UgzZ3HYrHz or scan the QR Code in the flyer!
*Please refer to the Frequently Asked Questions
Youth Programming Advisor
Office of Family Voice