A Leader in LGBTQ Healthcare Equality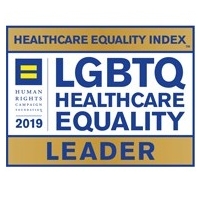 Penn Medicine Princeton Medical Center, including Princeton House Behavioral Health, was awarded LGBTQ Healthcare Equality Leader designation by the Human Rights Campaign® (HRC) Foundation in 2019. The HRC Foundation is the educational arm of America's largest civil rights organization working to achieve equality for lesbian, gay, bisexual, transgender, and queer people. HRC envisions a world where LGBTQ people are embraced as full members of society at home, at work, and in every community.
HRC's Healthcare Equality Index (HEI) surveyed health care institutions across the country and scored them based on policies and practices dedicated to the equitable treatment and inclusion of their LGBTQ patients, visitors, and employees, who may face discrimination and challenges obtaining quality care.
Participating in the survey for the first time, Princeton Medical Center earned the total score of 100 to receive the designation of LGBTQ Healthcare Equality Leader. All six of Penn Medicine's hospitals were recognized in the 2019 HEI.
"We are proud to have earned a top score in the Healthcare Equality Index, and we will continue our efforts to build an even stronger culture of inclusion and respect for our physicians, employees, volunteers, patients, and visitors who identify as LGBTQ."
– Barry S. Rabner, President and CEO, Princeton Health