Coping with Addiction in the Workplace and the Community with Former Governor James McGreevey
Thursday, December 6, 2018
5:00 PM - 7:30 PM
Edison
This event has already occurred!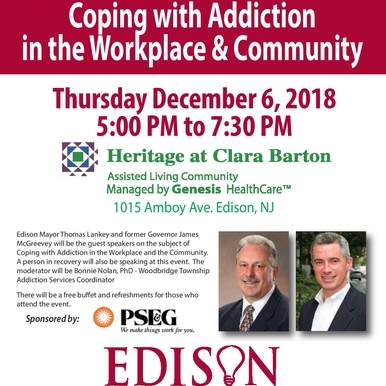 Coping With Addiction in the Workplace and the Community with Former Governor James McGreevey.
December 6, 2018
Guest Speakers:
Former Governor James McGreevey and Edison Mayor Thomas Lankey.
Hear from a person in recovery as well.
Eric B. Morrell - Law Offices of Eric B. Morrell
The moderator will be Bonnie Nolan, PhD - Woodbridge Township Addiction Services Coordinator

There will be a buffet and refreshments.
Member: $10
Non-Members: $15

Following this event: Holiday Tree Lighting at 7:30pm on Heritage Front Lawn - Tree lighting Hosted Separately by Edison Recreation Dept.
Age Groups
Health Services

Behavioral / Mental Health

Payment Options

Low Cost / Donation
Self Pay
Last Updated: 11/13/18